MkI Capri 1600GT - L, X, R, XL, XLR
As with all GT models the 1600GT had the six clock dash board. The 88bhp available on the 1600GT was a respectable improvement on the standard 1600 engine, and was the result of twin Webber carburettors as opposed to a single Motorcraft GPD carburettor for the standard car.

At a very reasonable £1042 the 1600GT was fantastic value.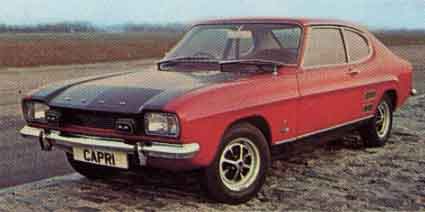 Pre-Facelift MkI Capri 1600 GT XLR
(Ford Photographic Services)
1600GT Specification 1972-1973
Back