My MkIII Capri 2.8 Injection Special (1)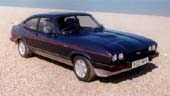 My MkIII Capri 2.8 Injection Special
(1997 Giles Ford-Crush)
I bought B221 MPE from a friends father. It had been stationary in a garage for two years - and passed it's MOT first go - all it needed was a new battery !
It used to be driven daily to get me to work and back through the London rush hour. I had the car for seven years, in summer 2004 the arrival of our first child and the general negelct the car had suffered whilst I restored my Mk1 finally came to a head and I had to sell the car for scrap. There were a great many things wrong with it and it would have needed a full restoration.

I loved it dearly and have many great memories of what is a fantastic car for the money - and it never had me in the ditch!


Back - Next