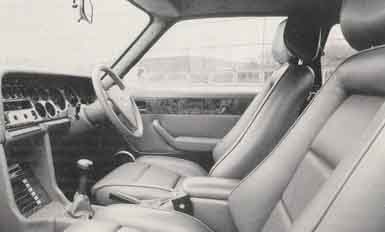 Tickford Turbo Capri Interior
(Aston Martin Tickford)
After meetings with Victor Gauntlet (Chairman of Aston Martin) and Bob Lutz (Chairman of Ford Europe) the idea began to develop into a reality. The aims set out were to produce a car that had the looks and performance of the Aston Martin Vantage but kept the advantages of the basic Capri.

Unfortunately, shortly after the project began to gather momentum Bob Lutz was promoted to a higher position within Ford in America and as far as Ford were concerned the project was put on hold. Thankfully Miles and Gauntlet decided to go on without Fords involvement and an agreement was drawn up to manufacture 250 Tickford Turbo's at the Coventry plant where the Jaguar XJ-S cabriolets were finished. The prototype was finished in time for the 1983 Motorfair. The price ? £14,985 !


Back - Next